Welcome to Lifestyle Designs by D'Alessio Interiors
Interior designer Christine D'Alessio of Lifestyle Designs is located in Colorado Springs, Colorado. Christine specializes in residential and commercial interior design for homes or offices of any size. From new to newly moved into, Christine can help you make your home or office a haven. A home you will enjoy living and entertaining in, or an office space you'll enjoy working in! Christine also specializes in the art of placement and redesign. This technique creates a warmer and more inviting home by utilizing items the homeowner already owns in lieu of making new purchases.
"A designer's job is to make a home reflect those that live in it."
-Christine D'Alessio
Mobile Showroom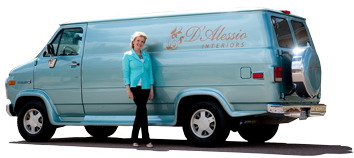 Imagine eliminating the frustration of shopping all over town, trying to find the perfect furnishings and fabrics. Now you can relax and enjoy the decorating process within the comfort of your own home.
By shopping at home, you can view the products in your own surroundings, assuring you will be satisfied with the finished project.
Together, we are able to create a room from start to finish using custom window treatments, furnishings, accessories, lighting, area rugs and wall coverings right from our mobile showroom. Now you can achieve the exact look you desire without all the hassle.